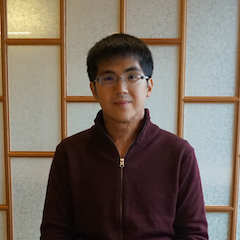 [photo by Ching-Yu Chen]
Yi-Hsiu Chen
Short Bios
I am an applied cryptographer at Coinbase. Previously, I was a research scientist in the Ads Core ML team at Facebook. I completed my Ph.D. in theoretical cryptography at Harvard University, where I was fortunate to have professor Salil Vadhan as my advisor. Before that, I studied physics at the National Taiwan University and computer science at the Columbia University.
Contact Information
Email: yihsiu@alumni.harvard.edu
Experience
Research intern at Facebook, Summer 2018
Teaching fellow of CS225 Pseudorandomness, Fall 2016
Teaching fellow of CS124 Algorithm, Spring 2017
Software engineer intern at Rocket Fuel Inc, Spring 2014
Research
My research interests include pseudorandomness and theory in differential privacy. During the visiting at Academia Sinica of Taiwan in 2015-2016, I was hosted by Kai-Min Chung, who lead me into the world of quantum information.